01-16-2020
LinkedIn: Blockchain Will Be Most In-Demand Hard Skill in 2020
By Sagetwriter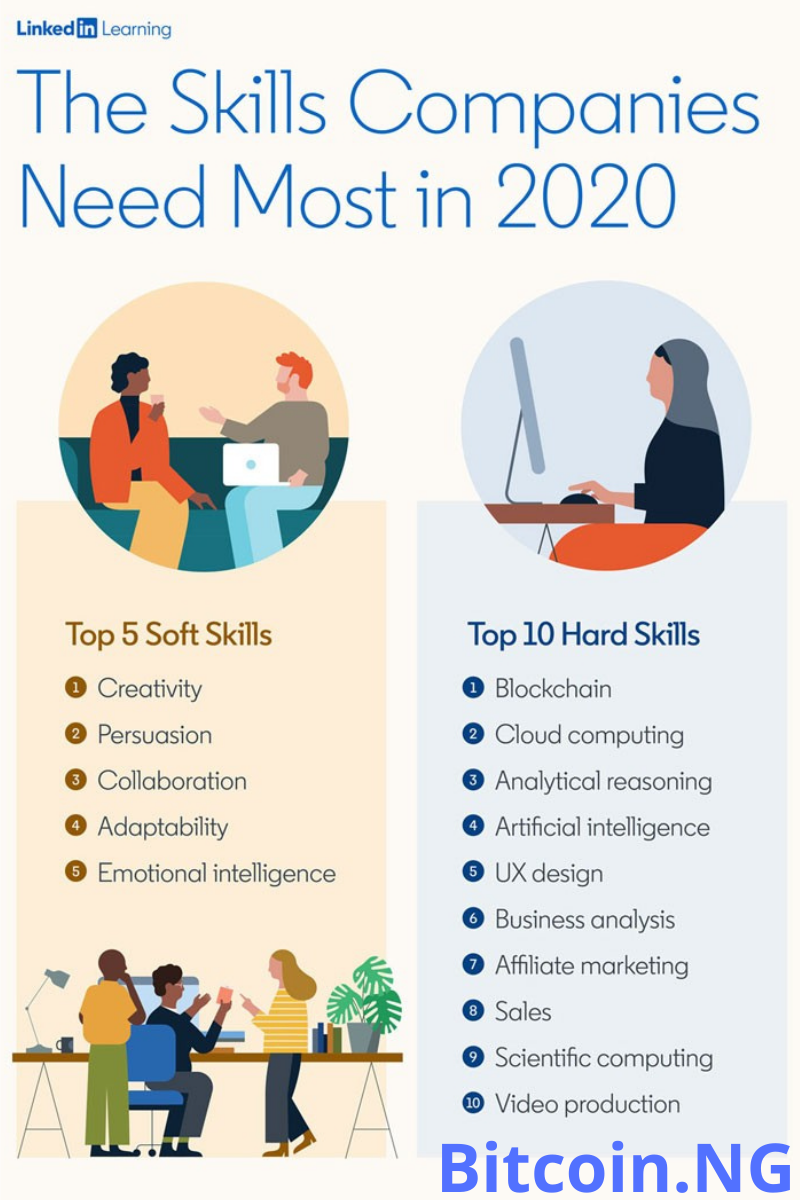 A new study by professional job board, LinkedIn reveals that blockchain technology skills will be the most in-demand hard skill this year.
According to an official blog post, blockchain technology now tops the list of most-needed skills in 2020, surpassing other hard skills such as cloud computing, user experience (UX) design and AI (Artificial Intelligence).
This comes in contrast to last year's listing which saw cloud computing take first place as the skill companies needed most in 2019; a list which didn't include blockchain.
LinkedIn also adds a guide on how to learn each of these in-demand skills here.
An Increasing Demand for Blockchain Professionals
According to statistics, the current demand for blockchain technology skills outweighs the supply of professionals in the industry.
The use of blockchain technology is becoming more discussed across various sectors (finance, health, energy, supply chain etc); and its no surprise the emerging industry still lacks enough man-power for the various roles and job postings.
This is one reason why Malaysia had last year, offered a 12-month free visa to blockchain professionals to boost its bearing in the industry. Similarly, China's President Xi Jinping has expressed his desire to make China a world leader in blockchain technology.
These and more all point to a growing need for skilled manpower in the industry amidst its potential boom.
LinkedIn Says Blockchain Potential is Huge
In its publication, LinkedIn outlined the vast potential of blockchain technology with regards to providing a cost friendly, time effective, secure and decentralized mechanism for tracking supplies, transactions and other use cases.
LinkedIn highlights that a number of big corporations such as IBM, Oracle, and Microsoft have all actively been developing services around the technology.
The publication further urges individuals, companies and recruiters in general to become more aware of blockchain technology, as it states:
"Blockchain has emerged from the once shadowy world of cryptocurrency to become a business solution in search of problems. Which means that you don't have to be in financial services to be seeking new hires who have background and expertise in putting blockchain to use. So, recruiters should start becoming familiar with how blockchain works, what its perceived benefits are, and who are the people best suited to help your company explore where this budding technology might have a role."

LinkedIn Rates Blockchain as Top In-Demand Skill for 2020
See the Bitcoin.NG publication on How to Start a Blockchain Career.