07-13-2020
WikiLeaks Shop Now Supports Bitcoin Lightning Payments
By Sagetwriter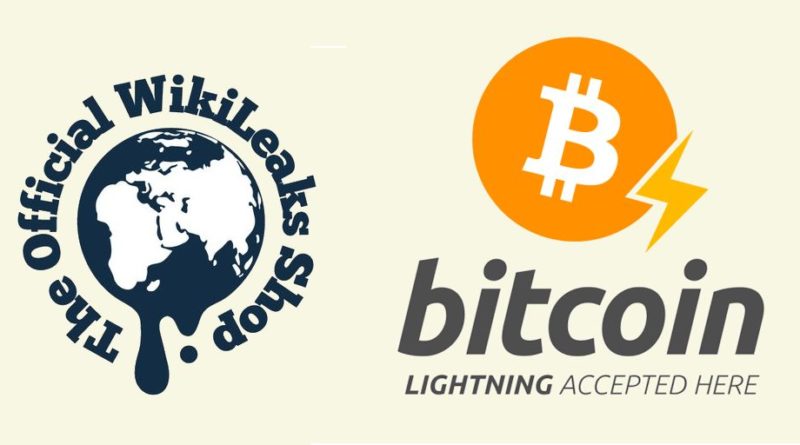 Bitcoin Lightning Payments are now accepted on the WikiLeaks shop – the online store of international non-profit WikiLeaks which publicizes news and classified information.
The WikiLeaks Shop is a branch of the WikiLeaks brand which sells a range of merchandise including T-shirts, face masks and others. Its latest integration of the BTC payments via the lightning network, makes it one of the earliest vendors and online stores to utilize the layer 2 payment protocol for instant Bitcoin transactions – like the speed of light.
Speaking on the announcement, a representative at WikiLeaks Shop explained that the store added support for the bitcoin lightning network following series of requests from customers. He is quoted:
"We try to offer as many crypto payment options as possible that our supporters request, as lots of supporters also love cryptocurrency."
As seen on its website, the WikiLeaks Shop already supports payments in seven (7) cryptocurrencies: Bitcoin, Bitcoin Cash (BCH), Ether, Dash, Litecoin, Monero, and ZCash; with buyers who pay for items using crypto enjoying a 5% discount.
"We generally see most crypto orders in bitcoin, litecoin, ethereum and very few in the other altcoins, but perhaps we will have more orders with this one," the spokesperson added.
The Bitcoin Lightning Network and Its Use
The Bitcoin Lightning Network is a layer 2 scaling solution developed to facilitate faster (instant) Bitcoin transactions and with cheap fees.
The lightning network (LN) is focused on a second protocol from the main blockchain, and allows transactions to be confirmed instantly. LN is proposed as a solution to delayed transaction which has hindered Bitcoin's suitability when payments are needed on the go.
Although still in development and not yet commonly used, proponents of the BTC lightning network say it is the perfect solution for BTC payments especially for purchases, and at times when the bitcoin network gets congested due to high trading activity.