05-08-2020
US Citizens Who Bought Bitcoin With Their $1,200 Stimulus Checks Celebrate 35% Profit
By Sagetwriter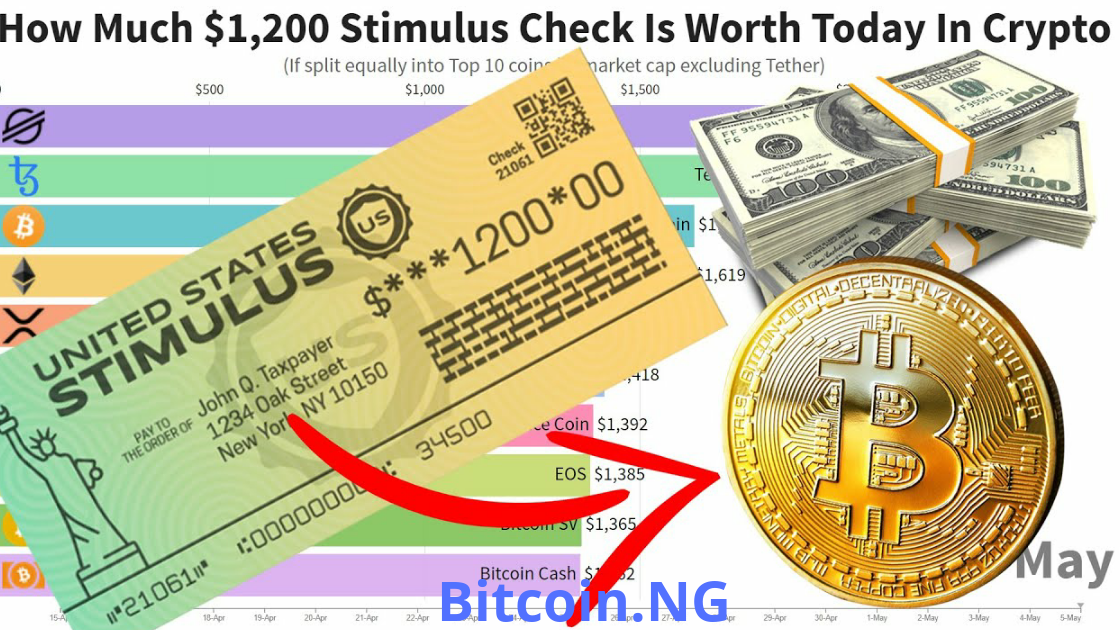 Following the US Government's disbursement of $1,200 stimulus cash to millions of Americans as economic aid in the fight against the COVID-19 virus, a number of people seem to have opted to buy Bitcoin (BTC) with the funds as indicated by recent statistics.
Interestingly, those who bought BTC when the first $1,200 checks were initially received, have seen their holdings increase to $1,600 at this time.
$1,200 to $1,600: Only Bitcoin Can Do This
According to reports, about 88.1 million people had received a stimulus check worth $1,200 by April 25th. This coincides with the time US crypto exchanges reported a surge in Bitcoin buys worth exactly $1,200; indicating that citizens could be purchasing bitcoin with funds, in anticipation of a price rise from the upcoming halving.
While this narrative is not fixed, it is worthy to note that those who bought Bitcoin have seen an increase within three weeks; with the number one cryptocurrency rising from a price of $6,674 on April 13th to $9,800 at this time of publication – about 35% increase which brings the presumed $1,200 investment to $1,615.
Discussions on social platforms such as Reddit sees many celebrating their victory having invested their "Trump change" as they call it into Bitcoin. Other commentators hailed investment in altcoins such as DigiByte (DGB) which has yielded 249% in gains since April 13.
On Twitter, a brand new account – @bitcoinstimulus now tracks the value of Bitcoin bought with Trumps $1,200 on a daily basis.
According to Business Insider, Americans didn't buy only bitcoin or altcoins with their corona cash. Recipients are said to have also spent a significant amount on video games, weed, sneakers and sex toys.
Only 16% of stimulus money went towards food as revealed by insurance companies and digital banks.
Key Note
As with all investments and assets, caution is needed when buying into the Bitcoin and cryptocurrency market due to its volatility; especially during the current economic uncertainty created by the coronavirus pandemic.
Hence, do due diligence to invest funds you can afford to spare, and as a general rule: "if you panic at your portfolio when a price drop happens, then you're probably holding too much."
Note: This publication is not investment advice. This is solely for educational purposes. Always Do Your Own Research.