07-13-2019
President Trump Tweets: "I am Not a Fan of Bitcoin and Other Cryptocurrencies"
By Sagetwriter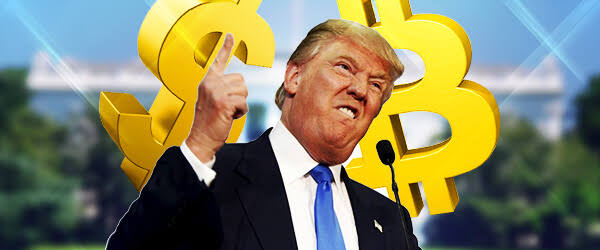 United States President, Donald Trump expressed his opposition to cryptocurrrencies in an official tweet, as he specifically mentions Bitcoin and Facebook's Libra cryptocurrency.
In a series of tweets posted on his official handle on July 11, at 5:15pm NGN time, President Trump stated:
I am not a fan of Bitcoin and other cryptocurrencies, which are not money, and whose value is highly volatile and based on thin air. Unregulated Crypto Assets can facilitate unlawful behaviour, including drug trade and other illegal activity.
Taking a swipe at Facebook's Libra coin, he continues:
Similarly, Facebook Libra's virtual currency will have little standing or dependability. If Facebook and other companies want to become a bank, they must seek a new Banking Charter and become subject to all Banking Regulations, just like other Banks both national and international.
Upholding his support for U.S fiat dominance, Trump remarks:
We have only one real currency in the USA, and it is stronger than ever, both dependable and reliable. It is by far the most dominant currency anywhere in the World, and it will always stay that way. It is called the United States Dollar! he concludes.
At this time, it is unclear as to what events prompted Trump's opinions. However, the tweets could be linked to the upcoming hearing of Facebook's cryptocurrency project slated for next week. Another factor could be the growing economic and financial debate amid increasing concerns about inflation and an impending recession which many have raised cryptocurrency as an alternative to wedge the effects of these events.
In all, comments and reactions by the public and crypto community regarding these tweets are trending; with majority bashing Trump. What is also surprising is the non-effect of these tweets on market price of cryptocurrency assets; as the market remains stable with flashes of green gains hours after the news.
The number one cryptocurrency, Bitcoin up by 3.72% on the day just as altcoins post profits too.
The intended results of Trump's tweets are yet to be evaluated, let's see how this unfolds. As many say, Trump just offered free publicity for Bitcoin and crypto.
See link to Trump's Bitcoin tweet here
Up Next: Reactions to Trump's bitcoin tweet and analysis of effects here