09-30-2022
Nigeria is Crypto Obsessed But Where is the Illegality in it?
By Lucy Adegbe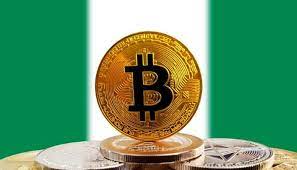 While Nigeria's economy has continued to suffer the impact of certain factors, often said to be the result of poor leadership, its citizens have sought refuge in the digital world. Nigeria's legislation does not exactly support the use of crypto like many other nations that have acted on their curiosity to enlarge their financial cost.
However, a recent report revealed the relentless actions of the country's citizens. The report ranked Nigeria as the leading cryptocurrency-obsessed country with top searches like "cryptocurrency, buy crypto and invest in crypto."
Could this nonstop quest for digitized knowledge be a pro or a con? Let's see.
Nigerians' love and dedication to cryptocurrency have led the emerging nation being ranked among the top 20 nations with the most crypto coins at 6.3%.
While this has been an adopted measure to preserve finances against the ever-decreasing naira value and accrue more, it has also aided certain illegal activities within the country. Of course, not everyone ventures into an investment for the right reasons, there's always the bad egg(s) that justifies the reasons why a thing should not be adopted or put to use.
…Cryptocurrency aided illegalities blossoming?
Many people have jumped on the digital train due to the misconception of it being understood as a "get rich quick" scheme. While a few have settled for the legal aspects like trading, hodling, and other cryptocurrency services that could accrue that extra income, others have focused on the opportunity to fund their illegal activities.
Money laundering has been a major cryptocurrency scam in many nations of the world inclusive of Nigeria. Illegally obtained money is easily passed through exchanges with little or no notice at all. In 2021, the country's Economic and Financial Crimes Commission (EFCC) ranked crypto as the third most preferred option adopted by cybercriminals to access illegally obtained funds.
The anti-graft agency further stressed this in a recent Twitter Space conversation, noting that internet fraudsters, especially those involved in love scams, now collect funds in crypto from their victims who are majorly foreign nationals.
Subsequently, different citizens have been apprehended over alleged crypto-related criminal activities like terrorism financing, tax exemption, and the purchase of weapons, not to talk about love scams. Of course, many have fallen prey to false romance that ripped them off their crypto assets.
How does that work? Simple. These cyber criminals build a clone trading app and convince their prey –online lovers– to download and send funds with the tempting promise of moving their relationship to the next level. Thereafter, these victims get locked out of their accounts, losing their assets.
All of these activities encouraged the CBN's decision to place a cryptocurrency restriction on various financial institutions.
…Future for crypto in Nigeria?
Nigeria may not be in the right place to recognize cryptocurrency presently, but the pros attached to this digital coin can not be ignored forever. In July, CBN Governor, Godwin Emefiele urged that members of the monetary policy committee may need to reorganize financial systems operations due to emerging financial technology.
Recently, Binance partnered with the Nigerian government to develop the Nigeria Export Processing Zone Authority (NEPZA) to promote a digital economic zone just like the UAE. This collaboration with Binance came after similar strides were achieved in Busan and South Korea. It was reported that Nigerian authorities aimed to build a region similar to Dubai's virtual free zone, the first in West Africa.
It will also be recalled that the central bank froze the bank accounts of some fintechs in August 2021 on allegations that their speculative activities contributed to the weakening of the local Naira against the U.S. dollar. Among the companies affected were Risevest, Bamboo, Trove, and Chaka.
However, the Federal High Court in Abuja overturned the judgment in October 2021, absolving the company from claims that it was involved in any speculative activity and cryptocurrency trading after the CBN restricted banks from facilitating crypto transactions in February.
While this seemed to have raised the hopes of many that crypto may one day have a place right beside the nation's traditional financial institutions, it may seem too early to predict.
Nonetheless, the digital space would continue to thrive alongside its promising and more convenient technology due to the ever-increasing acceptance amongst other nations of the world. The expectation that regulators get it right to eradicate major illegalities being carried out would be retained.