09-12-2019
France: Domino's Pizza Offering 100k€ in Bitcoin Giveaway
By Sagetwriter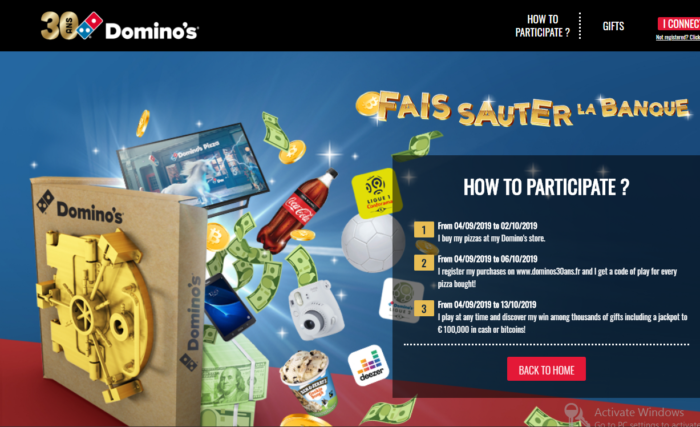 The French unit of popular pizza franchise – Domino's Pizza has launched an ordering competition; with the winner's prize set at a 100,000 Euros worth in Bitcoin or cash.
According to an official announcement on its Twitter handle, Domino's France is offering the 100,000€ euro prize in celebration of its 30th anniversary. Details of the competition as indicated on its website states that eligible customers are open to order pizza from now until October 2; with registration of purchase closing on October 6.
Visit the Domino's French website here.
For the prize money, the competition T&C indicate that the amount to be awarded in Bitcoin (BTC) will be equivalent to a 100,000 Euros, calculated using the exchange rate on the day of the winner's announcement, if the winner opts to receive the reward in BTC.
The winner is however expected to receive the Bitcoin transfer on December 16, 2019.
Is the Fast Food Industry Becoming Crypto's Latest Adaptor?
Fast food chains seem to be catching the cryptocurrency vibe. Prior to the Domino's France announcement, fellow restaurant chain Burger King also announced it has begun accepting Bitcoin (BTC) payments for its online orders in Germany; so customers can now pay for food deliveries using Bitcoin.
Domino's Pizza is however no new entrant to this industry. The company has allowed customers to buy pizza using Bitcoin; in commemoration of the Bitcoin Pizza Day which holds annually on May 22.
Asides payments, Domino's Pizza subsidiaries in Singapore and Malaysia have also invested in a blockchain project in partnership with SingularityNET; as they look to utilize the tech in improving the Domino's supply chain process.