06-30-2019
Cardano Blockchain Technology Debuts in Georgia and Ethiopia
By Bitcoin Nigeria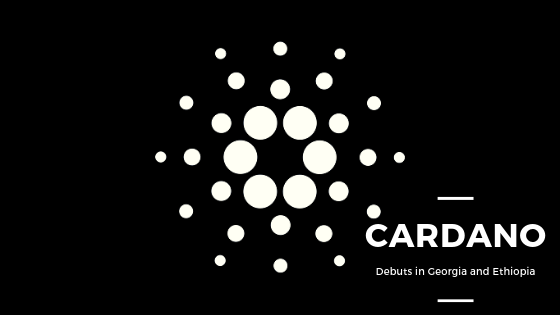 Cardano, a cryptocurrency and blockchain technology platform founded by Charles Hoskinson, is making waves in the Caucuses and East Africa. On June 17th, Ethereum co-founder Charles Hoskinson signed a memorandum of understanding (MoU) with the government of the Republic of Georgia.
In Georgia, the Cardano MoU will see Hoskinson's Cardano team implement a blockchain framework called 'Atala' in Georgian higher education institutions. In time, this will allow for immutable verification of student academic credentials.
What Does Cardano's Blockchain Technology bring to Georgia?
The newly announced Cardano and Republic of Georgia partnership will see Cardano's Atala blockchain implemented across the Georgia Ministry of Education, and the Free University of Tbilisi.
Similar to blockchain technology used to verify digital identity credentials, the Atala blockchain will provide an instant and credible way for employers and universities to verify citizen academic and training qualifications. This is important for Georgia, due to the country having a skills shortage in some areas.
A recent Asian Development Outlook (ADO) report, has also identified promoting skilled training and higher education, as vital for Georgia's future economic prosperity.
Atala will allow the Georgian Ministry of Education to forecast future skills shortages.
Employers and the Ministry of Education will be able to use Atala to instantly verify the qualifications of students and job applicants.
It is possible that the success of Atala, will see Cardano blockchain technology be adopted by other Caucus regions
What is Atala?
Atala is a Cardano created blockchain framework which can be used in a variety of different ways, similar to IBM's Hyperledger blockchain. Atala, though, is created explicitly for governments and not businesses. (As is the case with Hyperledger.)
In East Africa, the Ethiopian government has also signed an MoU with Cardano. There, Atala will be used to create a cryptocurrency payment gateway for Addis Ababa utility bill payments. Atala may also be used in Ethiopia, to improve existing Ethiopian identity card systems.
Atala is can be used to manage and streamline complex supply chain logistics
The Atala blockchain can be used to record land registry information and records of property transactions
Cardano has created Atala in a way which makes the blockchain capable of facilitating voting in democratic elections
Atala can be used as a digital identity system
The Atala blockchain offers interoperability across different blockchains and supports several different digital currencies
In Georgia, Atala will be used in a blockchain digital identity system capacity. However, like in Ethiopia, uses cases may be expanded when the Atala blockchain has been fully deployed already.
Will Cardano Atala MoUs Result in Cardano Coin Price Rises?
New partnerships with Ethiopia and Georgia, lend legitimacy to Cardano as a top coin to watch in anticipation of 2020. However, Cardano coin (ADA) prices haven't yet benefited as a result of MoUs. Possibly, this is due to most cryptocurrency investors at present, watching Bitcoin and Litecoin prices in anticipation of upcoming halving events.