08-12-2019
Buying Citizenship with Bitcoin – Yes, It is Already Possible
By Bitcoin Nigeria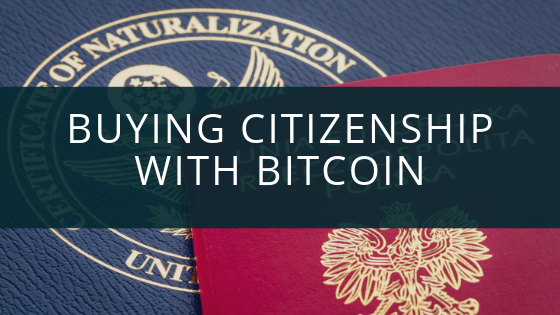 In recent years, several counties have courted controversy by allowing third-country passport holders to buy local citizenship. Now, this controversy is being added to. Specifically, by an increasing number of countries which make buying citizenship with Bitcoin possible.
Countries Where Buying Citizenship with Bitcoin is Possible
Antigua has recently made headlines as one of the latest counties to allow Bitcoin holders to buy citizenship. However, Antigua is far from alone.
During the Bitcoin boom of December 2017, Vanuatu became one of the first countries to allow people to buy citizenship with BTC. Later in July 2018, Bulgaria followed suit by announcing a Bitcoin payment path to citizenship of its own. Now with Antigua following suit, Bitcoin bag holders can secure citizenship in three highly desirable economic areas.
Why Would Someone Buy Citizenship with BTC?
The appeal of buying citizenship is simple. Countries like the U.S. and UK are not exactly cryptocurrency tax-friendly. In recent years, several countries have decided to treat Bitcoin as property for tax purposes. This means that users are taxed every time they transact Bitcoin for other altcoins, fiat cash, or goods or services.
By comparison, in Vanuatu, there is no income tax and no tax on cryptocurrency. In some cases, 1% taxes do apply to certain types of transactions. However, these are infinitesimal when compared to taxes in places like the U.S.
Other Reasons to Buy Citizenship with Bitcoin
As well as lower taxes, countries like Bulgaria and Antigua, offer a lower cost of living. Many also make it easier for residents to start businesses and travel overseas.
As an EU member state, buying citizenship in Bulgaria with Bitcoin makes individuals defacto EU citizens.
In Vanuatu, passports are issued under the flag of the UK Commonwealth. This allows Vanuatu citizens to travel freely among all Commonwealth counties.
As well as being tax havens, counties like Antigua and Vanuatu offer warm climates and affordable property prices.
In the case of U.S. citizens, it is also the case that the U.S. expects citizens to pay tax on global income, even when not domiciled in the United States. Securing alternative citizenship is, therefore, a top priority among many high net worth individuals.
How Much Does Buying Citizenship Cost?
Every country which makes it possible to buy citizenship with Bitcoin charges a different amount of BTC per passport. In Bulgaria, the cost to purchase citizenship starts at approximately half a million Euros.
Needless to say, not all Bitcoin bag holders have a spare half million Euros. However, in Vanuatu and Antigua, fees are much lower.
In Antigua, citizenship can be purchased for the Bitcoin equivalent of just $100,000. (This is less than a fifth of the price of citizenship in Bulgaria.)
Where is the Best Place to Buy Citizenship?
At face value, Bulgaria, Antigua, and Vanuatu are all ideal places to consider buying citizenship. However, only Antigua and Vanuatu are real tax havens. Bulgaria is cheap. However, it should be remembered that as part of the EU, higher Bitcoin taxes and transaction tracking rules may come into force at some point in the future.